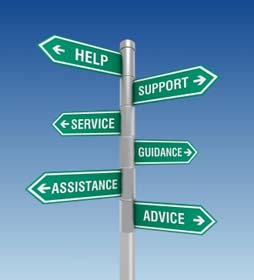 From the initial conversations and a growing recognition that many of the City's older residents were not familiar with and/or readily able to access supportive services when needed, the STAY UA program was developed as a pilot project beginning in April 2009 to . . .
. . . "bridge the gap" – connecting Upper Arlington residents with appropriate supportive services to allow them to "age in place" in their community.
Pilot project funding was provided by the
National Church Residences
John R. Glenn Foundation
for the first year of operations, and supported:
Service coordinator position (3 days/week)
Computer
Car/travel expenses
A service coordinator (a National Church Residences employee) was situated in the fire division offices, with dual supervision by the City's Coordinator of EMS Services and the National Church Residences Vice President of Supportive Services. The service coordinator became available to address the following needs:
repeat calls for non-emergency situations,
complicated healthcare situations,
challenging family circumstances,
issues with resident referrals to other agencies,
family needs during emergencies,

end of life situations,
911 abuse calls,
disaster preparedness,
education on aging, wellness and prevention for Fire Division staff, and
much more

The Stay UA program received considerable media attention and the service coordinator served 226 people during the pilot project, with notable successes that included 211 referrals to community providers, fewer 911 calls from repeat clients served, and proactive discovery of hazardous fire situations. Not only was the program well received by the City's residents, it received a number of awards for innovation in health care delivery and public/private partnerships.
F.A.S.T. (Fire and Seniors Together)

A second pilot program was launched in Chillicothe, Ohio in December 2009. During the initial one-year pilot program, the service coordinator served 193 residents and made 169 referrals to community providers resulting in the reduction of 911 non-emergency calls, fewer unnecessary trips to the Emergency Room, and increased support, education and advocacy to frail and isolated older adults who have extremely limited support networks.